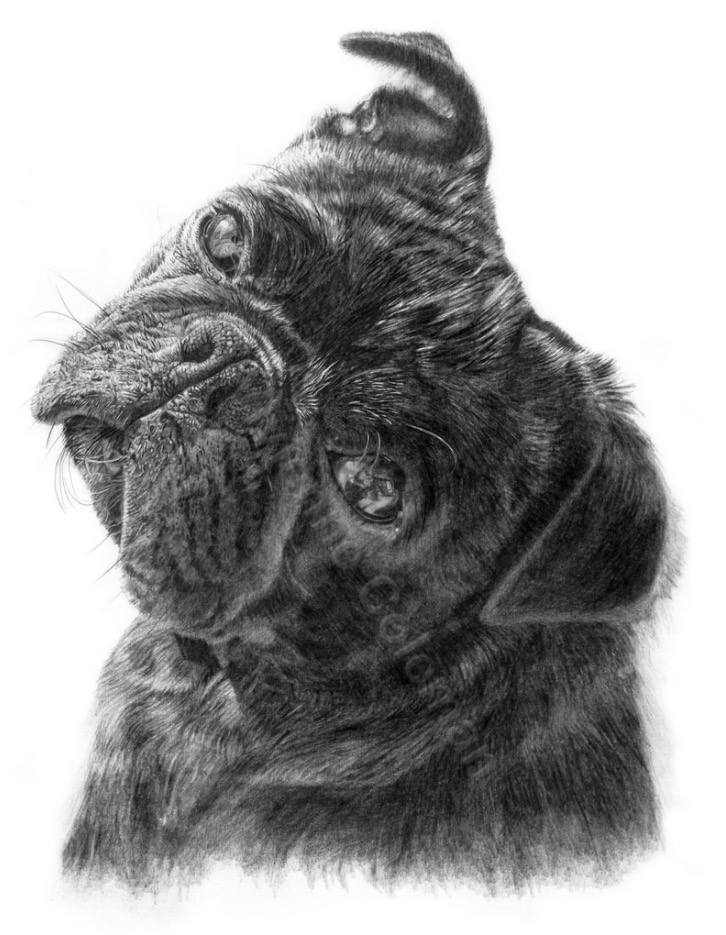 Louie
The care and detail Vivienne has put into the commission she did for my daughter's birthday brought tears to my eyes. I was blown away with the fantastic work. The likeness is uncanny. Fantastic work by a fantastic artist. Mrs G, Cumbria.
It is difficult to find an adequate way to express our delight and appreciation. You have captured our dog to a 'T', not only physical appearance but also his 'spirit' and personality. We were fortunate to find such a talented artist with such a genuine interest and commitment to her subjects. Mrs M, Cumbria.
I can't describe just how like my dog the drawing is. Thank you. Mrs R, Gloucestershire.
We absolutely loved the entire experience. Thank you!! Mr & Mrs C, USA
Fantastic!! I would recommend to anyone. Mrs M, Scotland.
Superb!! The likeness is amazing and gives us all such pleasure. THANK YOU so much. Mrs H, Cumbria.
So very, very pleased with the portrait, thanks so much. Mrs C, Cumbria.
In both portraits, you have captured her perfectly. They are beautiful. Thank you, Vivienne, they mean so much. Mrs K, Liverpool.
We were thrilled with the drawing and have both been in tears. Thank you for having such talent that has given us this forever memory of her. Mr L, Wirral.
Thank you so much, the picture was a surprise birthday present and it is amazing. It's perfect. Mrs C, Cumbria,
We love our drawing, thanks again! Mrs H, Cumbria.
We are absolutely thrilled with our portrait. You are a truly talented lady. Thank you so much. Mr & Mrs B, Cumbria.
Absolutely delighted. Mr T, Cambridgeshire.
This portrait was a present for Christmas and was absolutely perfect – thankyou. Mr & Mrs H, Northumberland
We absolutely love our portrait. Thank you so much for your help and understanding and the beautiful cards. Mrs L, Greater Manchester
Thank you for these precious portraits of my beloved family. They mean more to me than you could ever imagine. Mrs W, Tyne and Wear.
Having a pet portrait by Vivienne has been easy and fun with a fantastic end product. We loved seeing the work in progress too. Mrs H, West Midlands.
Fabulous! It has pride of place over the mantlepiece! Mrs S, Cumbria.
I cannot articulate how positively chuffed I am with the drawing and sing your praises everywhere. Mr C, Lancashire.